BMW Berlin Marathon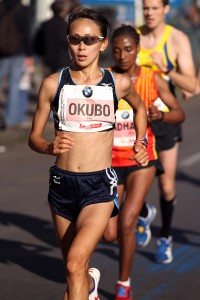 On a perfect running day in Germany that also saw Kenya's Patrick Makau set a new world record of 2:03:38, Eri Okubo (Second Wind AC) obliterated her marathon PB by over six and a half minutes (!) with a 2:28:49 run for 9th place at this morning's BMW Berlin Marathon. Her previous best was 2:35:24 at last year's Nagoya International Women's Marathon in Japan.
Eri has been in great shape all year, but circumstances have kept her from the breakthrough race until now. She was originally scheduled to run Nagoya again in March, but after the devastating earthquake and tsunami hit Japan 48 hours before Nagoya's start, the race was canceled. Not wanting to waste her fitness, Eri flew a few days later to Los Angeles, where the Honda Los Angeles Marathon organizers had been kind enough to extend an invitation in the aftermath of Japan's disaster. The week's travel, stress, and fatigue combined with a race-day thunderstorm were more than she could handle and Eri ran 2:42:48. Looking to salvage something from the Spring, on the last weekend of May, Eri raced to 2nd place at the Stockholm Marathon in 2:38:58.
Eri attacked it from the start today, passing halfway in an aggressive 73:16. Coach Kawagoe was dead-on in his pre-race prediction of 2:28-2:29, which we reported yesterday.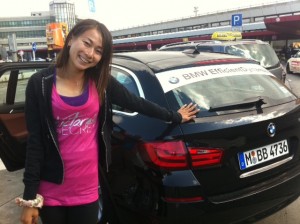 Lidia Simon (ASICS) and Eri Okubo (Second Wind AC) are fit and peaked for tomorrow's BMW Berlin Marathon, annually one of the world's fastest events. A year ago, our group featured Tomo Morimoto taking 3rd, and Adriana Nelson in 6th.
As usual, race director Mark Milde has assembled a world class field, including for only the third time in world marathon history, both the men's (Haile Gebreselassie) and women's (Paula Radcliffe) world record holders racing in the same event.
Lidia trained all summer in Boulder for Berlin. In tomorrow's race, she will be looking to post a fast time to put her in strong consideration for selection by the Romanian Athletics Federation for next year's marathon team for the London Olympics. Lidia is also aiming to become the first woman in Olympic history to compete in five (!) Olympic marathons.
Eri is also in top shape, and Coach Manabu Kawagoe will have her going out at 2:28-2:29 shape, in line for a big PB. In her last marathon, Eri was 2nd in Stockholm in June.
Berlin's weather forecast for tomorrow is for a temperature in the low to mid-50s at the start, rising to an eventual high near 70 later in the day.
************************************************************************************************
Note from David Monti/Race Results Weekly on watching the race broadcast:
PROGRAMMING NOTE – WATCH BMW BERLIN MARATHON IN THE USA ON UNIVERSAL SPORTS
Fans in the USA can watch the BMW Berlin Marathon, either on-line or on television, for no charge.  The race will be carried by Universal Sports as follows:
. LIVE: On-line at UniversalSports.com, Sunday, Sept. 25, 2:45 a.m. to 6:00 a.m. (link on homepage)
. TAPE DELAY: On television on Universal Sports, Sunday, Sept. 25, 8:00 p.m.
To find the Universal Sports television channel, go to UniversalSports.com and click TV CHANNEL FINDER in red at the top of the page. On broadcast (over-the-air) television it usually a sub-channel of the local NBC affiliation.  For instance, in New York City it is 4-4.
ENDS